Check it out! I am in the current issue of Rebel Ink Magazine. Special thanks to Paul and everyone else at Rebel Ink for making this happen. It is always a bit surreal to me to see myself graced in the pages of any magazine – let alone tattoo magazines, when I have spent a huge chunk of my life looking at tattoo magazines; studying the tattoos, the artwork, reading the articles and loosing myself with each page. In this new issue of Rebel Ink, I have a four page spread featuring a ton of tattoos, and a little bit of information about myself.   I am beyond floored to be in your pages, Rebel Ink! Thank you a million times over for the feature. I am beyond grateful!
I am in the January issue of Tat2 Magazine! I am very excited about this feature. You can purchase your own copy from www.tat2-magazine.com
Thanks so much everyone at Tat2 Magazine for making this happen for me! I owe ya!
This past weekend I worked the Hell City Tattoo Convention in Phoenix Arizona. The convention was at the Biltmore Resort and Spa, which made for a more than perfect environment for a tattoo convention. Plenty of luxurious guest rooms, 8 heated salt water swimming pools, golf, and five star dining. As usual, all Hell City conventions are top notch.
Durb Morrison, the owner of Hell City Tattoo Convention, Red Tree Tattoo Gallery, and True Tubes, always goes above and beyond to make sure Hell City is a success as well as make sure all of the artists are properly taken care of. This was my first time tattooing at Hell City, but I have attended previous Hell City Conventions, and I can easily say that Hell City is one of my favorite conventions on both realms of the spectrum (both tattooing and spectating).
I did a ton of awesome tattoos, got to see many friends I haven't seen in awhile, and enjoyed the resort over the 4 days spent in Phoenix. Special thanks goes out to Durb and company for putting on such an amazing show. I really appreciate all that you have done for not only myself, but the entire tattoo industry in general. I am forever grateful.
See everyone at Hell City Killumbus and Phoenix in 2014!!
---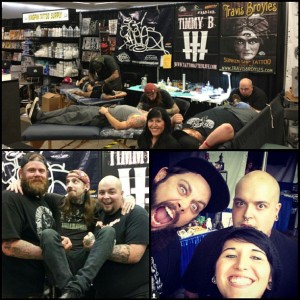 This past weekend I had the pleasure of working the Seattle Tattoo Convention. As usual, good times were had. This time around I was able to work in the Kingpin Tattoo Supply booth, and shared the working area with Big Meas of Distinction Tattoo, and Timmy B of Tattoo Afterlife. We were a bit cramped on our space, but we made the best of it. Many tattoos were completed, and great memories were made.
Next week I'll be working at Hell City in beautiful Phoenix Arizona! I still have an opening left, so please email: contact@travisbroyles.com to book an appointment!
See everyone at Hell City and I'm looking forward to the 2014 Seattle Convention!