---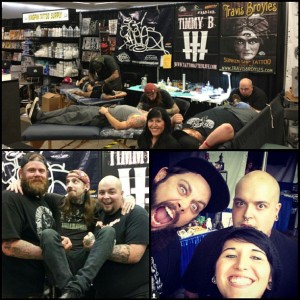 This past weekend I had the pleasure of working the Seattle Tattoo Convention. As usual, good times were had. This time around I was able to work in the Kingpin Tattoo Supply booth, and shared the working area with Big Meas of Distinction Tattoo, and Timmy B of Tattoo Afterlife. We were a bit cramped on our space, but we made the best of it. Many tattoos were completed, and great memories were made.
Next week I'll be working at Hell City in beautiful Phoenix Arizona! I still have an opening left, so please email: contact@travisbroyles.com to book an appointment!
See everyone at Hell City and I'm looking forward to the 2014 Seattle Convention!